Discover the perfect design sofa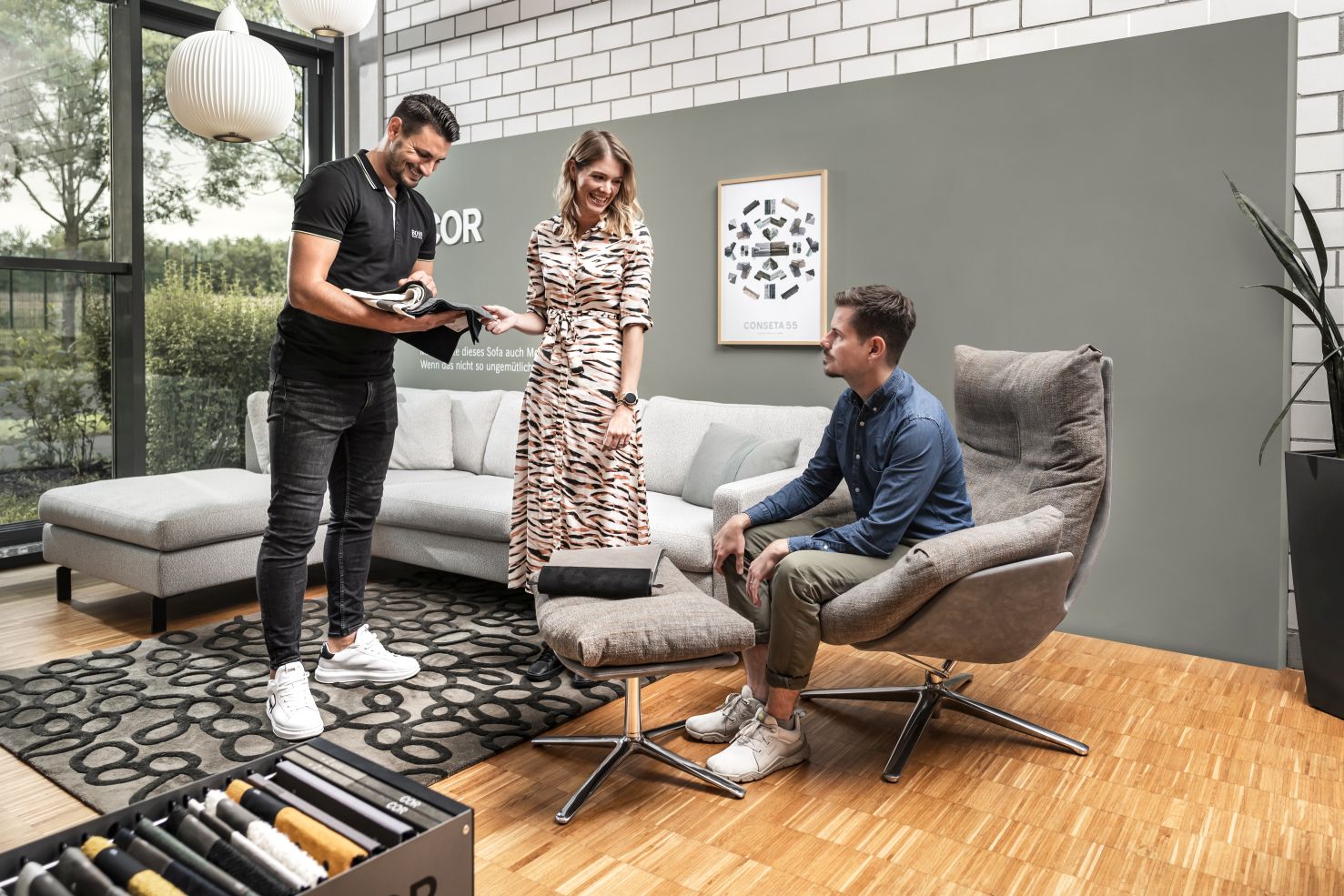 Always individual - you've come to the right place!
You already have an idea of what your dream sofa looks like, but can't quite find it? No problem! Many of the designer sofas we offer are available in different versions and with a wide range of fabrics and colours - we will be happy to provide you with comprehensive advice on choosing the sofa that suits you best.
In our showroom in Würzburg, we also display our top designer sofas so that you can see them in real life and even try them out - just look for the "Experience a designer sofa live" symbol directly on the product. Click on it to find out more! Our advisory service is rounded off by a large selection of fabric and leather samples, which you can view during your visit or order directly here in the online shop. And if you opt for our premium shipping, we will bring the sofa directly to your living room and take the packaging right back with us - the all-round carefree package!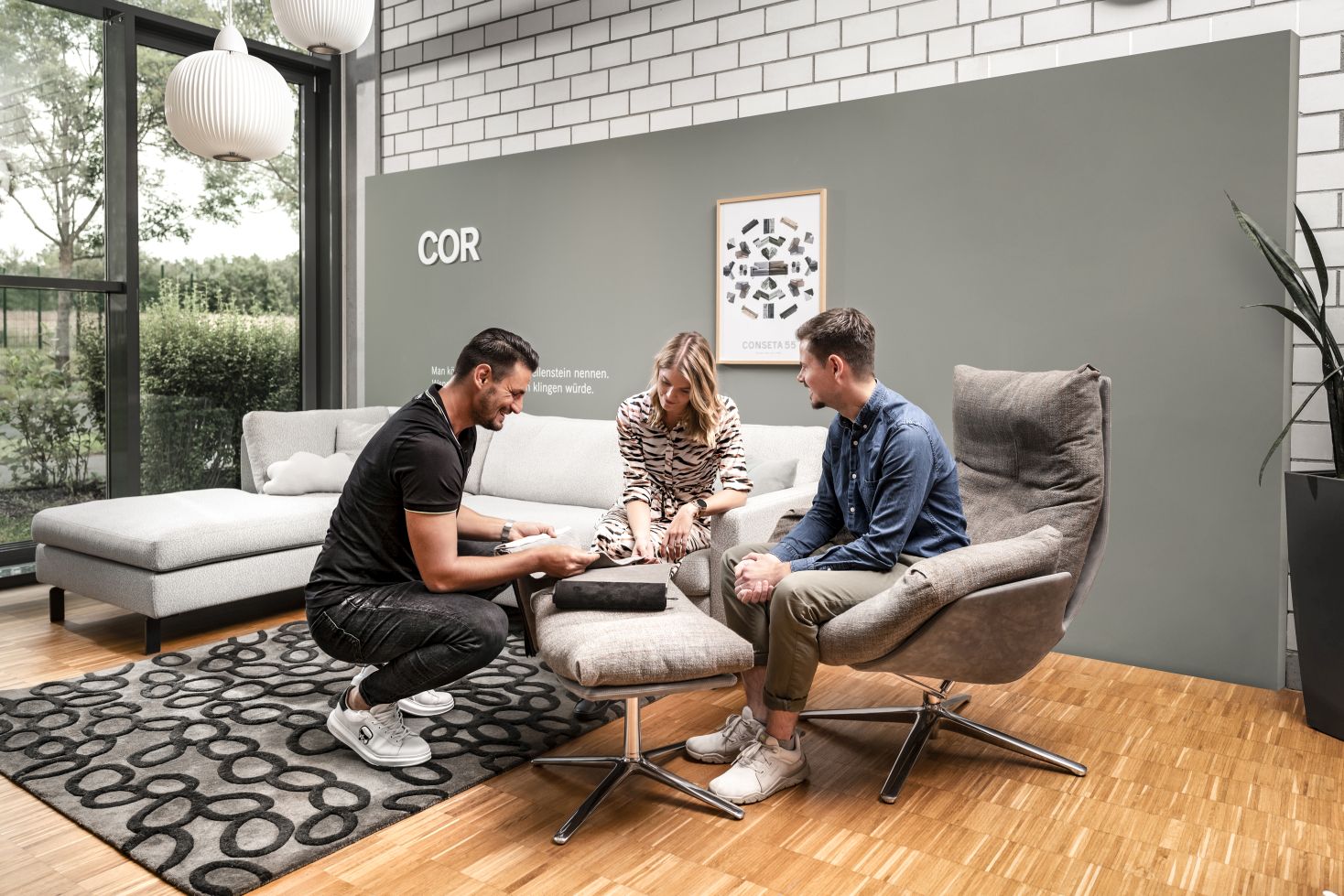 High quality - you can rely on it!
We only stock selected manufacturers and upholstered furniture makers who stand out for their high-quality craftsmanship and beautiful designs.
You will find design sofas from well-known brands such as COR, Vitra, Walter Knoll, Muuto and Hay in our online shop. You are also welcome to browse and discover all our design sofas below:
How do you find the right sofa?
When choosing the right designer sofa, it is not only the colour and style that matter. You can recognise a high-quality sofa by various aspects:


Frame construction: are the supporting parts made of dimensionally stable solid wood or only of pressboard? Also check whether the parts are securely connected to each other, ideally the wood is mortised and not just screwed together, as screw connections can come loose more easily.


Slat base: The slat base is located directly on the frame construction and is responsible for the seating comfort as well as the base for the overlying upholstery. Are steel wave springs used for the seat and elastic straps for the backrest? Is the suspension covered with a mat made of natural material such as linen, cotton, felt, coconut or cork? A cover not only helps prevent damage to the upholstery, but also prevents noise and the steel springs from being pushed through.


Upholstery: The upholstery usually consists of several layers. First comes a spring core or chambers, then a breathable foam, possibly in different degrees of hardness. Finally, there is a polystyrene fleece between the upholstery and the cover.


Cover: Whether leather or fabric, synthetic or natural fibre - that is a matter of individual taste. However, if you prefer large patterns or colour combinations, this is only possible with a fabric cover.


What do you like?
In addition to the material aspects, you should also consider your personal preferences when choosing the right sofa, because after all, you have to like the sofa. So you should ask yourself various questions, such as.
Who will use the sofa? Should it be more representative or an easy-care sofa for the whole family? Question the use, consider who will use the sofa and how many people it will usually seat.


What seat height do you want? Older people usually tend towards higher and firmer seating furniture with a shallow seat depth. Young people often aim for a cosy reclining seat.


Which cover is the right one? One of the hardest decisions when buying a sofa is usually the question of the cover. Ask about the durability of the fabric such as abrasion, light fastness and rub fastness. Usually fabric covers are cheaper than covers made of leather or microfibre.
Do you still have questions?
... or need support in choosing the right sofa for you? Contact us by e-mail at info@einrichten-design.de or call 49 (0)931 / 8 09 92 - 310 - we will be happy to help you!