Discover our top manufacturers
To sit down
Shapely chairs
Whether design classics like the popular Eames Plastic Chairs by Vitra or modern design novelties by various manufacturers - you will find what you are looking for in our chair category!
Cozy furnishings
Armchair with character
For the best possible seating comfort - in our armchair category you will find high-quality, visually attractive and above all comfortable designer armchairs from well-known and new manufacturers.
Table talk
Fantastic tables
The coffee table at the sofa, the desk in the study or the dining table in the kitchen - you will find all these design tables in shapely designs here.
Spending time outdoors
Outdoor design furniture
Whether it's a balcony, terrace or your own garden - who doesn't enjoy spending time in the fresh air in summer? This becomes even more beautiful with the right furniture. With us, you will find beautifully designed tables with matching chairs, cosy and flexible outdoor lounges and great lighting - in short, everything that makes summer even more enjoyable!
in stock
Design - immediately available
Would you like to receive your new designer furniture and home accessories as quickly as possible? Then take a look at our goods for immediate delivery. There you will find a large selection of furniture and accessories which, when ordered, will leave our warehouse on working days within 24 hours!
Your advantages with einrichten design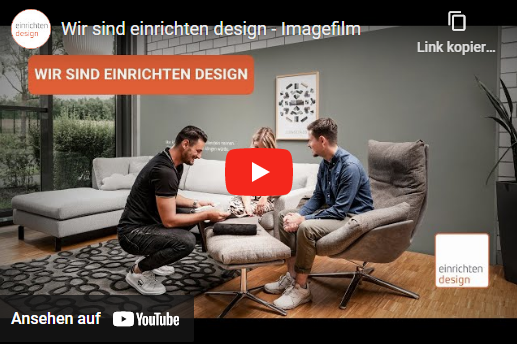 Personal, individual, passionate
We are einrichten design
Our mission is to make the shopping experience for designer furniture, lighting and accessories on the internet just as attractive as shopping offline by providing personal advice.
Find out more about our company in our image film or on our About Us page.
Video & on-site consultation
You don't have to travel to Würzburg for our personal advice. We are also happy to advise you by video at any time, almost as if you were in our showroom!
Find out more here or book a free appointment for a video or on-site consultation with one of our customer advisors:
Be inspired and discover new designs
Let us inspire you
Design ideas for every room
Whether living room, dining area, bedroom or home office - with us you will not only find the right furniture for every room, but also tips and ideas on how best to furnish them. It's worth taking a look at our worlds of experience!
Discover new
Design novelties
Personal, individual, passionate - we are your contact for designer furniture.
Our mission is to make the shopping experience for designer furniture, lighting and accessories on the Internet more attractive than shopping offline in a furniture store - we pursue this goal with dedication and determination. In doing so, we are not only connected to the topic of designer furniture by decades of expertise and high-quality consulting competence, but above all by one thing: personal passion.
We offer you only originals in our online shop. You can rely on this, as we are licensed specialist dealers of our manufacturers. When you buy designer furniture or accessories from us, you are investing in genuine design classics of lasting value and you can always be sure that you are buying a genuine original as defined by international copyright law.
But what is designer furniture anyway?
The design of furniture dates back to the 17th century. It was mainly at the time of the manufactories that furniture was first designed for interiors in general and for the courts of this past century in particular. At the end of the 20th century, it was mainly designers such as Charles and Ray Eames, Verner Panton and Eero Saarinen who had a style-defining influence on designer furniture. These designers understood how to turn a simple four-legged chair into an aesthetic work of art.
Many of the resulting pieces of furniture have become real design classics even today. In our online shop, we carry renowned manufacturers such as Thonet, Vitra, Hay, Kartell or USM, to name but a few. However, the designer furniture and lamps in our online shop are not only aesthetically pleasing and perfect in form, but also functional and user-friendly. In general, user-friendliness plays an important role alongside the shape of the furniture nowadays. Designer furniture should not only look good, but also be practical. So that you use the furniture for a long time and with pleasure, not only because of its functionality but also because of its high-quality workmanship.
Because the environment and sustainability are also very important to us. In addition to selling durable design products, we try to minimise returns through detailed information and advice and to establish an awareness against the online throwaway mentality.