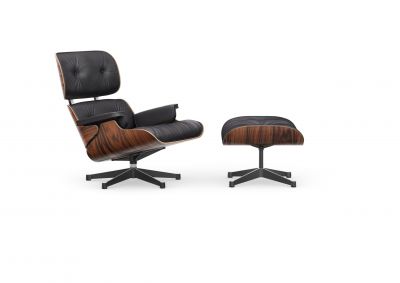 Eames Lounge Chair & Ottoman armchair Vitra Cherry - Premium F leather - polished - black sides
Classic: Eames Lounge Chair & Ottoman Armchair Vitra
The lounge chair designed by Charles & Ray Eames with matching ottoman is a Vitra classic that offers ultimate comfort and convinces with its design and high-quality workmanship.
Lean back for a few minutes without a guilty conscience and enjoy a little time out to recharge your batteries - no other armchair fulfils this wish to the same extent as the Eames Lounge Chair.
Material, finishes and recommendation for combining the colour versions
This is how we know the classic: the Eames Lounge Chair made of Santos rosewood plywood panels, upholstered in black leather and equipped with a polished base that has black side panels.
To order the Eames Lounge Chair online that perfectly matches your furnishings, you can also customise it to your wishes and choose walnut or cherry wood instead of Santos rosewood. For the cover, you have a choice of twelve high-quality leather colours.
Vitra recommends choosing the polished base with black sides for the two darker woods, Santos rosewood and cherry. The completely polished or chrome-plated frame goes particularly well with the lighter walnut wood.
Materials of the wooden shell
The seat and back shell are made of moulded plywood covered with high-quality wood veneer in Santos rosewood, walnut or cherry.
Wood Santos rosewood
Santos rosewood is a particularly strong and resistant wood. Thanks to its dark colouring and smooth surface, the wood has a particularly noble appearance.
Walnut
The walnut wood of the Eames Lounge Chair is pigmented black. Walnut is one of the most valuable furniture woods and is visually and qualitatively convincing.
As a special white edition - based on an idea by designer Hella Jongerius - the Eames Lounge Chair is also available from us online with a frame made of white-pigmented walnut in combination with a white leather cover.
Cherry wood
This moderately hard wood is a popular furniture wood due to its warm colour and is often used for sophisticated interior design.
Black lacquered ash
Only available as an all-black special edition: covered in black premium leather, the Lounge Chair with black lacquered ash wood frame is part of the Vitra Black Edition.
Leather upholstery
Sustainability was always an important topic for Ray and Charles Eames. For this reason, Vitra is helping to develop the age-old tradition of leather tanning with sustainability in mind: The new Premium F leather, tanned on the basis of olive tree leaves, is as free as possible from environmentally harmful substances and manufacturing processes. The leather comes from cattle raised in Denmark, southern Germany and Switzerland, which further minimises the carbon footprint of production.
Base and feet
The base of the Eames Lounge Chair consists of a swivel 5-star base and a backrest bracket made of die-cast aluminium. The accompanying ottoman is equipped with a non-rotating 4-star base. The sides of the base can be ordered online either in black with polished edges, completely polished or completely chrome-plated.
Glides
Please choose plastic glides for carpeted floors and felt glides for hard floors in order to optimally protect the subfloor.
Belongs to
To make the comfort experience perfect, Charles Eames designed a footstool with a non-rotating four-star base, the Lounge Chair Ottoman. This not only matches the Eames Lounge Chair perfectly in terms of appearance, but also makes putting your feet up stylishly presentable.
Information on care, durability, warranty and spare parts
For optimal care of your lounge chair, we recommend cleaning the wooden surfaces only with a soft damp cloth. If necessary, use a mild cleaning agent. For cleaning the leather cover, please refer to the brochure supplied.
Vitra offers a 24-month warranty on the Eames Lounge Chair. However, thanks to the careful selection of materials and the high-quality workmanship, the Vitra chair is a piece of furniture that is often passed down through generations.
If you need spare parts for your Lounge Chair, we will be happy to contact Vitra to get them for you.
Traditional manufacturing and sustainability
Since 1956, nothing has changed in the manufacturing standards of the Vitra Eames Lounge Chair: The original design by Charles & Ray Eames is still largely handcrafted from three wooden shells - for the seat shell, backrest and headrest - assembled, upholstered and mounted on a rotating five-star base. 47 work steps are necessary to make the design classic shine in all its glory.
The original type of the Eames Lounge Chair was made of Brazilian rosewood, which today, however, is subject to stricter species protection. The version made of Santos rosewood, which is very similar to the original material, comes closest to the original lounge chair. Vitra attaches great importance to the fact that all wood comes from sustainably managed forests.
Vitra complies with both the ISO 90001 quality management standard and the ISO 14001 environmental management standard.
A classic of furniture design
Designed by Charles & Ray Eames in 1956, the Vitra Eames Lounge Chair has become a true design classic due to its popularity. Immediately after its creation, the lounge chair already received the Triennale Award in Milan.
Charles Eames' intention was to create an alternative to the classic English club chair. This seemed too clunky and bulky to the designer - but Charles Eames did not want to do without the comfort that this chair offered.
This is how the Vitra Lounge Chair came into being, which, with its combination of laminated wood shells and leather upholstery, breaks completely new ground in terms of appearance and comfort. Maintaining posture even when sitting relaxed - that is what the Eames Lounge Chair makes possible.
At the time of the Eames Lounge Chair's creation, the trend was towards organic and homely shapes and colours - Charles & Ray Eames were also inspired by this. Thus, the generous armchair conveys cosiness, which, paired with timelessness and style, makes up the image of the Eames Lounge Chair as a design classic.
It is not without reason that the Eames Lounge Chair has been part of the famous design collection of the Museum of Modern Art in New York since 1960. In the Vitra Design Museum in Weil am Rhein, the legendary lounge chair naturally has a place of honour.
Vitra's founding father, Willi Fehlbaum, discovered the Eames Lounge Chair in a shop window at the time and was so enthusiastic that he immediately secured the licence for the production and distribution of the original design by Charles Eames. Until today, the original Eames Lounge Chair is only produced by Vitra. With us in the online shop, you have the guarantee that you are ordering an original Vitra Lounge Chair.
Dimension:
New height: W 84 x D 85 - 92 x H 89 x SH 38 cm
---
Der ultimative Klassiker! Ein wahrer Traum!
Ein Muss für alle Eames Liebhaber
Ultimatives Sitzgefühl trifft höchste Verarbeitungsqualität und macht den Sessel zum absoluten Highlight!
Seit Dezember 2016 stolzer Besitzer. Ein Wahnsinn zu relaxen. Vom Design her der Hingucker schlechthin. Jederzeit zu empfehlen.
| | |
| --- | --- |
| Product number: | VITRA 412133 2 0075 66 02 05 |
| Manufacturer | Vitra |
| Design Year | 1956 |
| Designer | Charles & Ray Eames |
| EAN-Nummer | 4055737040580 |
| Herstellerartikelnummer | 41206600 |
| Shipping method | Forwarding agent |
| Material | Gestell: Stahl; Sitzschale: Formsperrholz furniert |
| Width (cm) | 63 |
| Depth (cm) | 56 |
| Height (cm) | 42 |
| Seating height (cm) | 38 |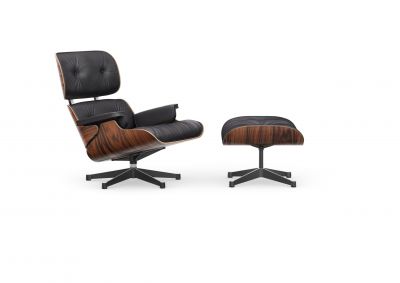 Questions about the product? We are happy to help.
Personal contact person

trained product experts with love for designer pieces

Material advice

20 years of experience
Exactly as you imagined it.
Our special service for you: Take our range of diverse material samples home with you in comfort.
View material samples
Related products of Eames Lounge Chair & Ottoman armchair Vitra Cherry - Premium F leather - polished - black sides