Questions on the product?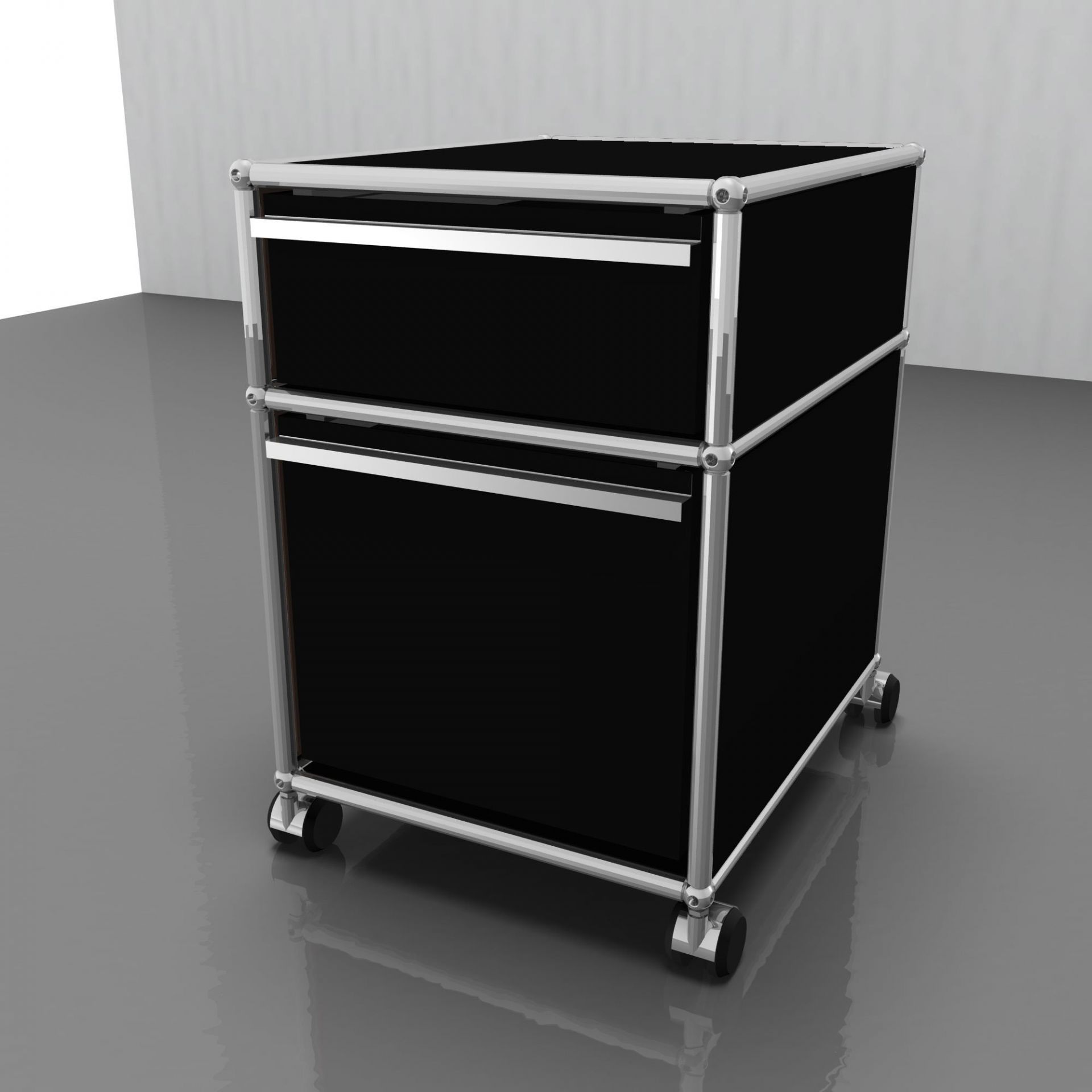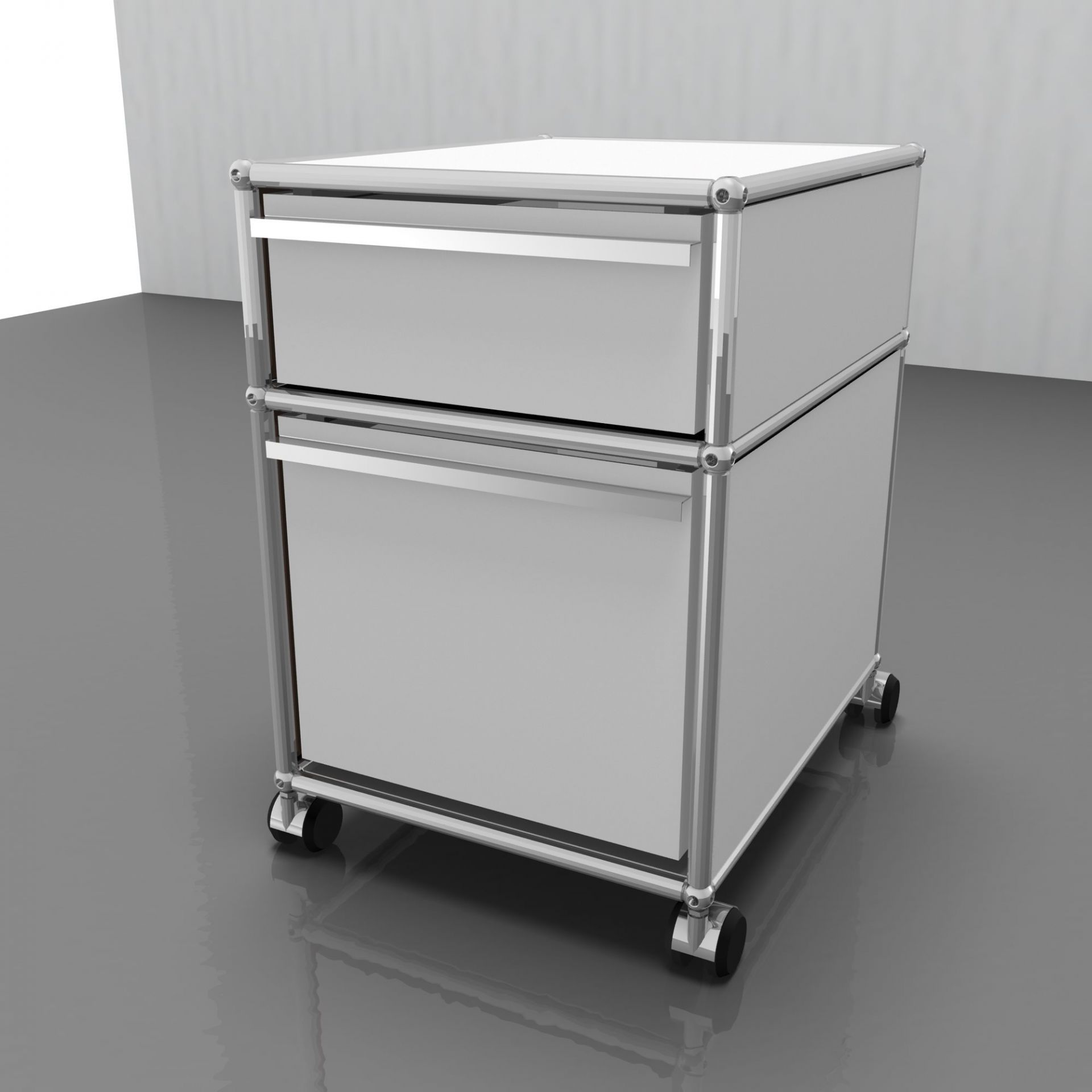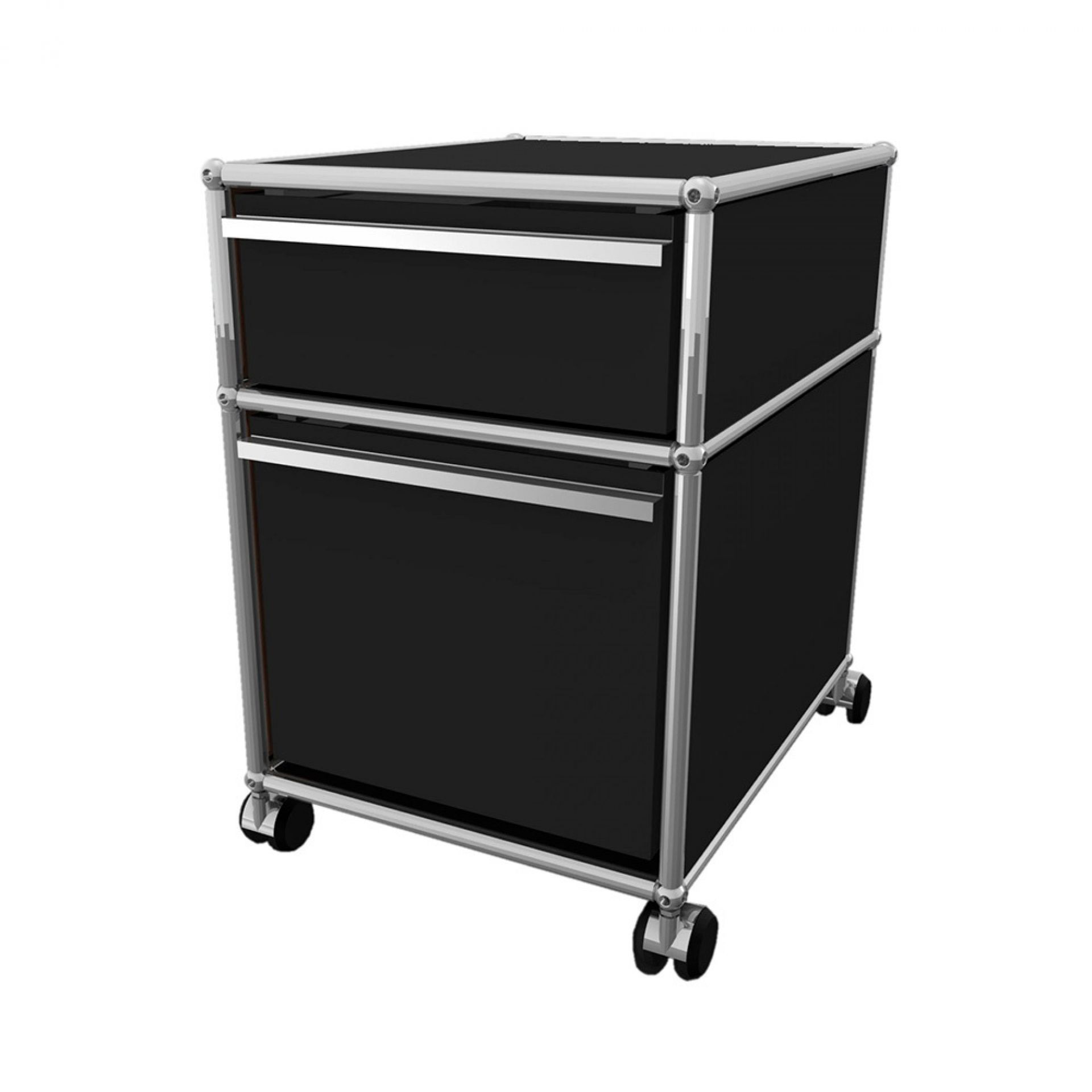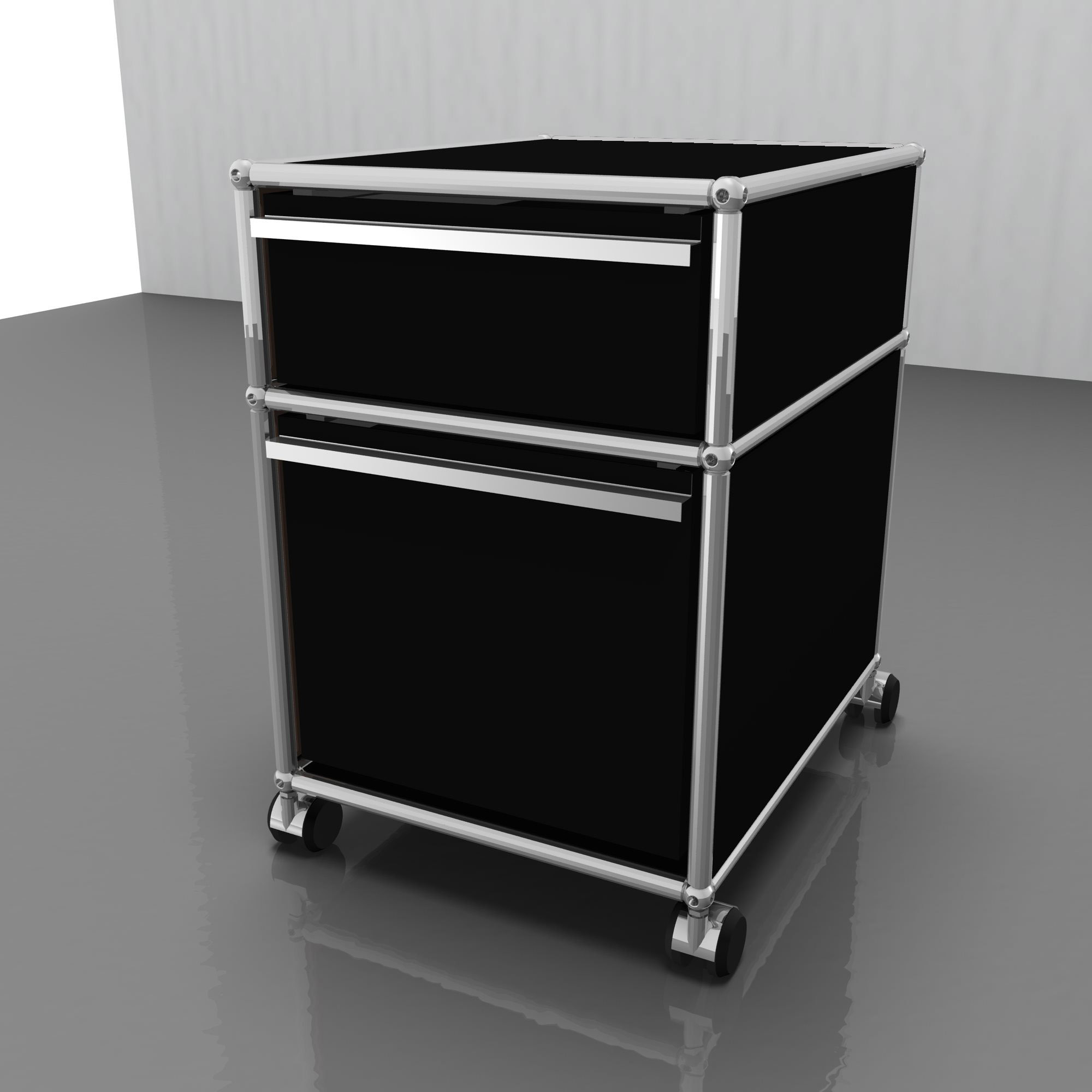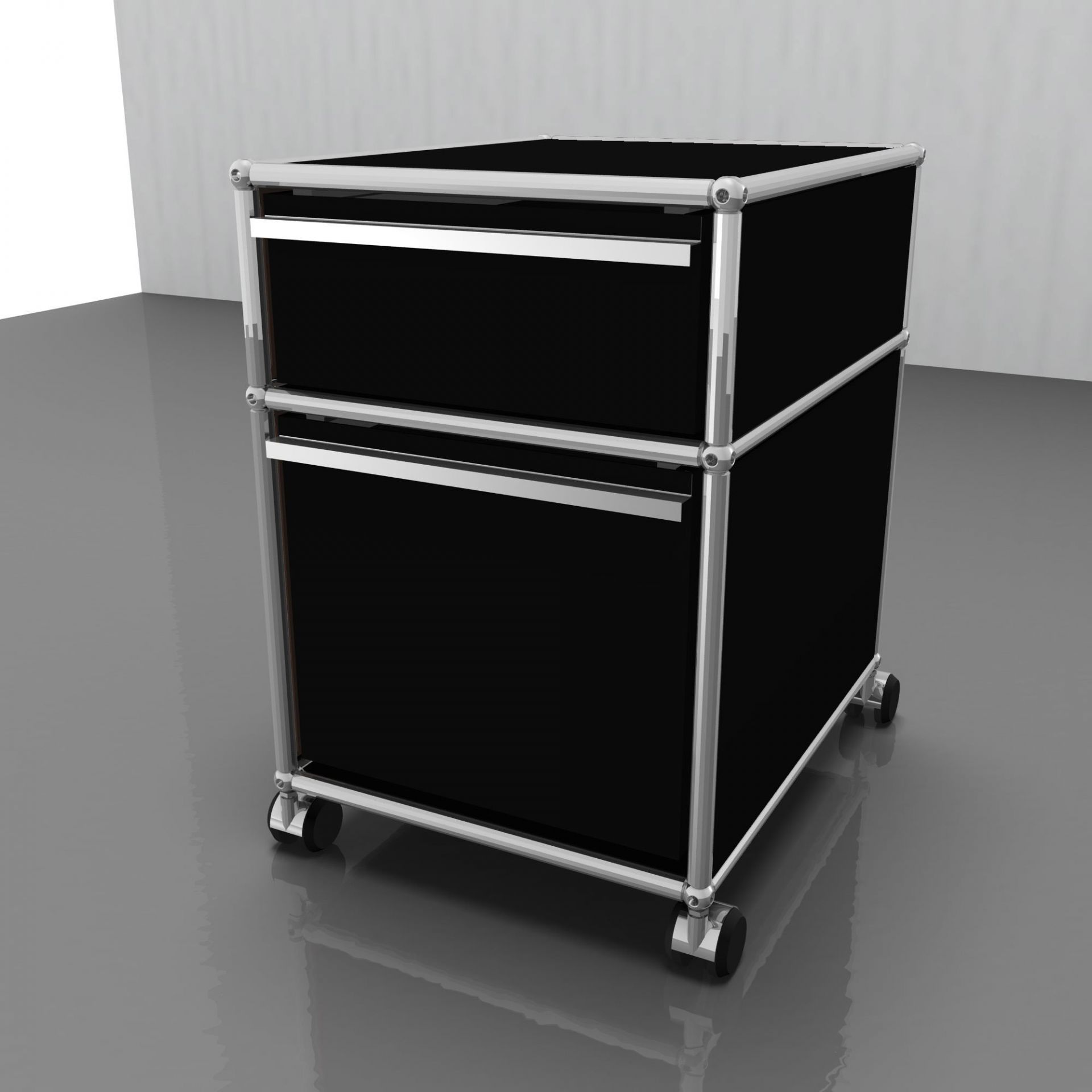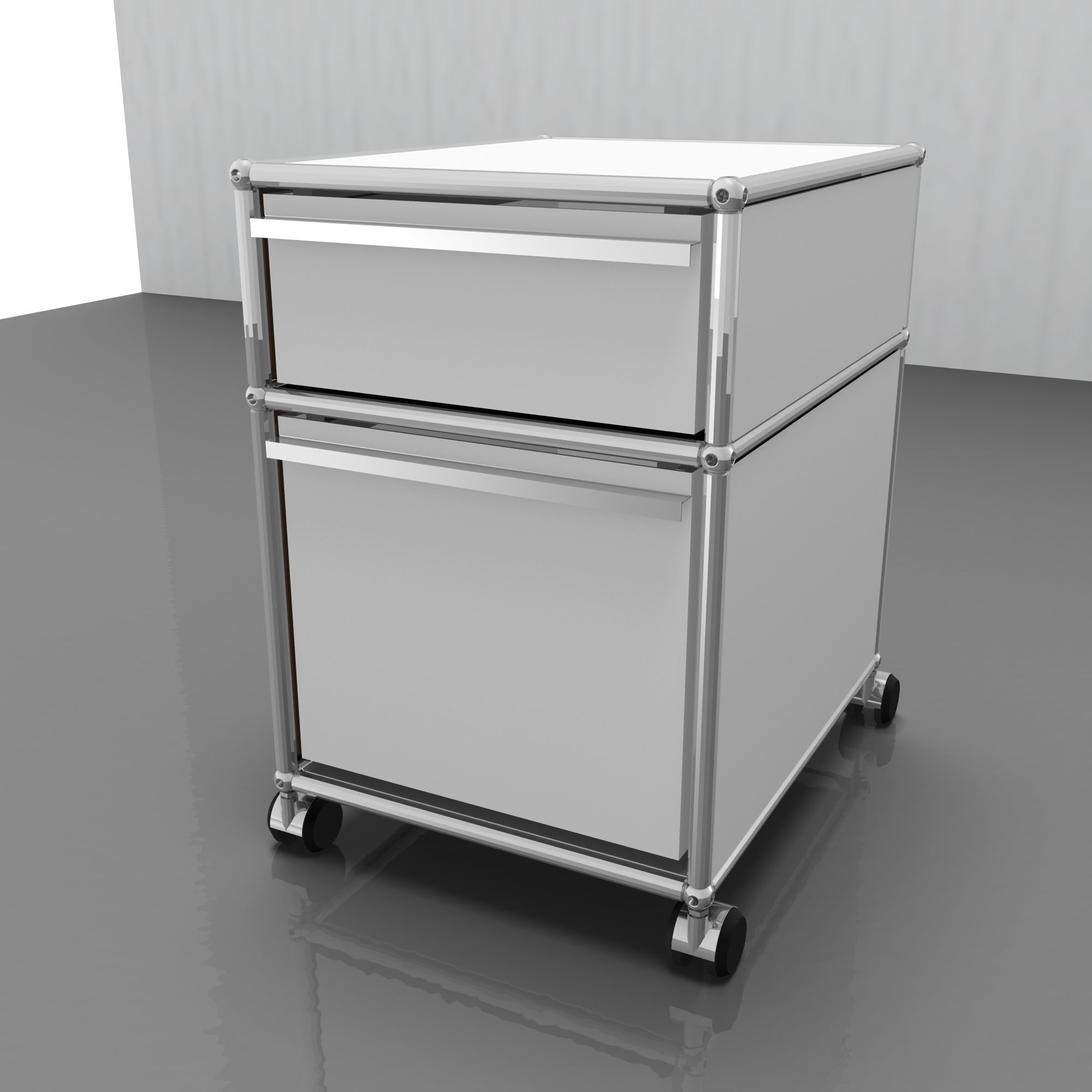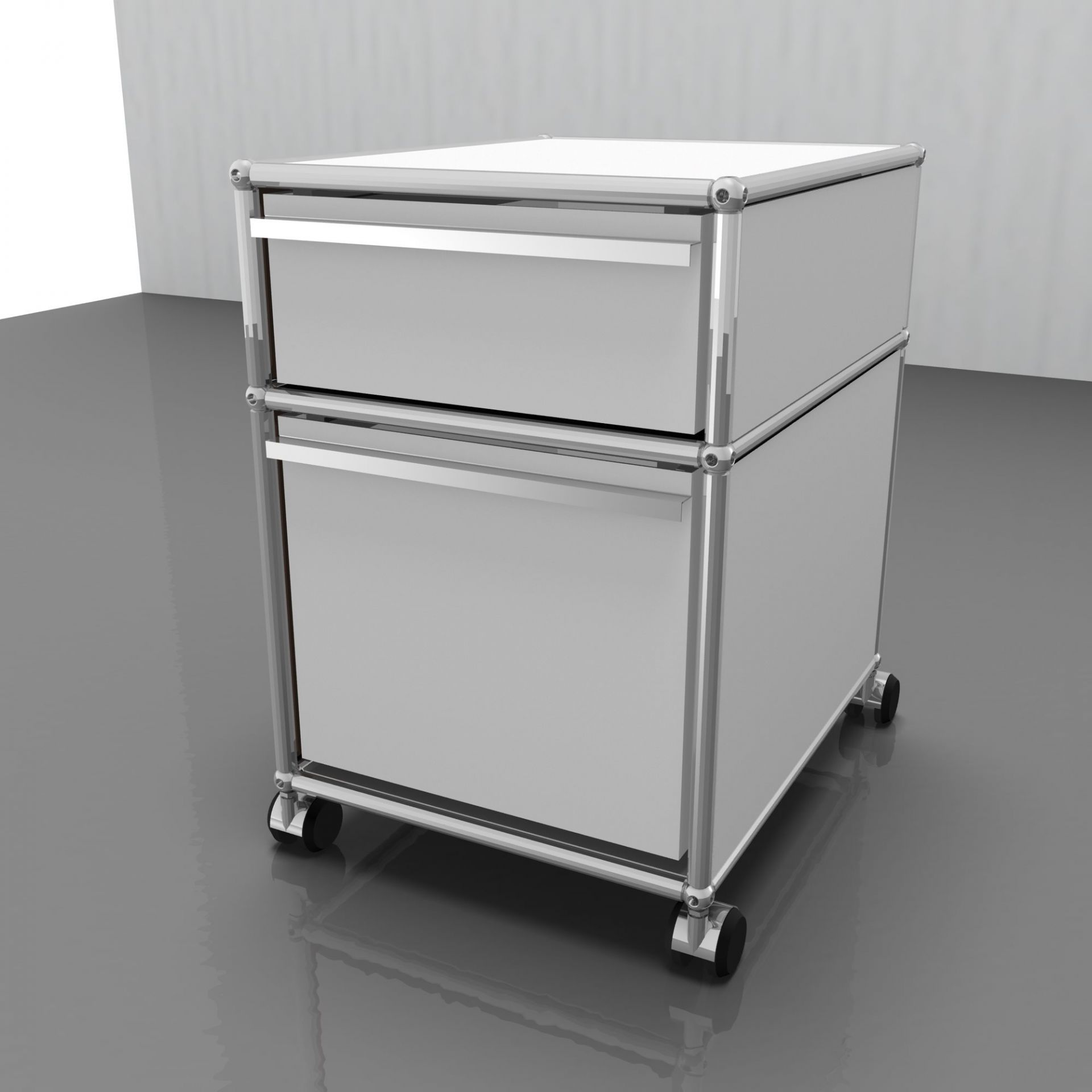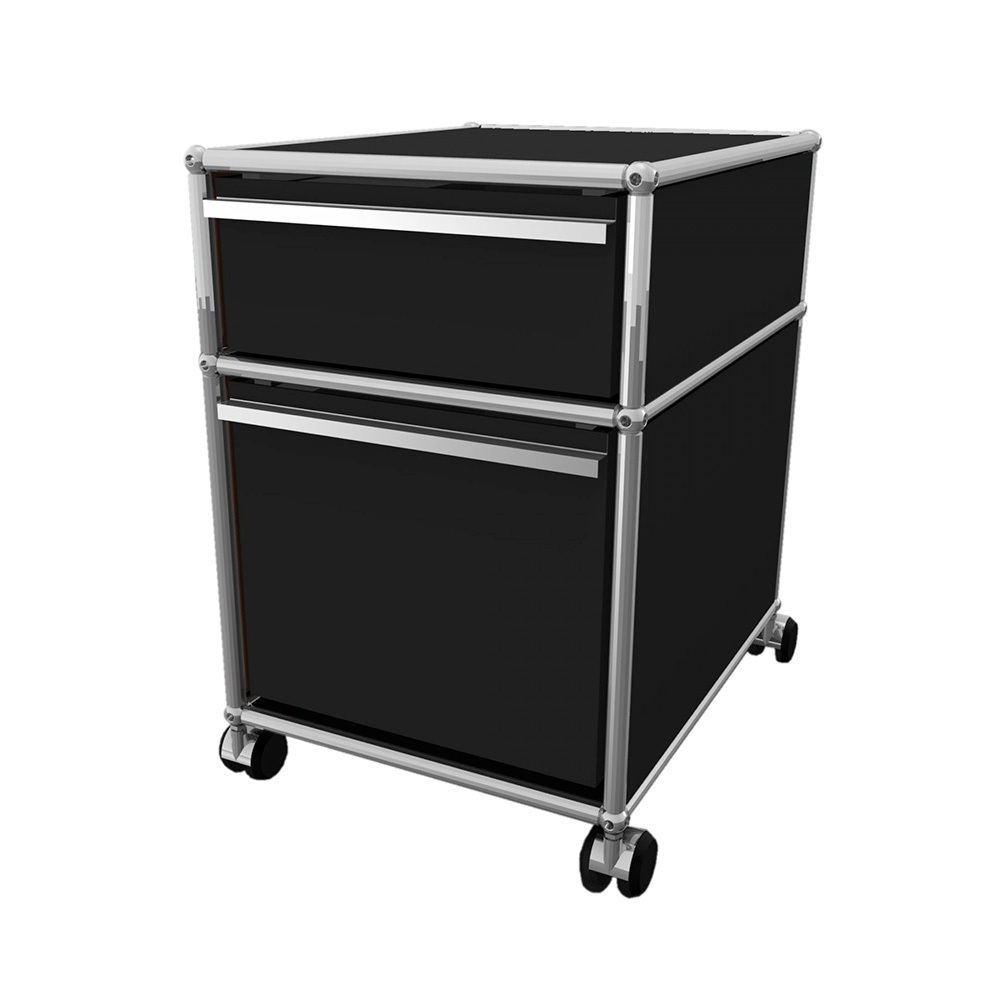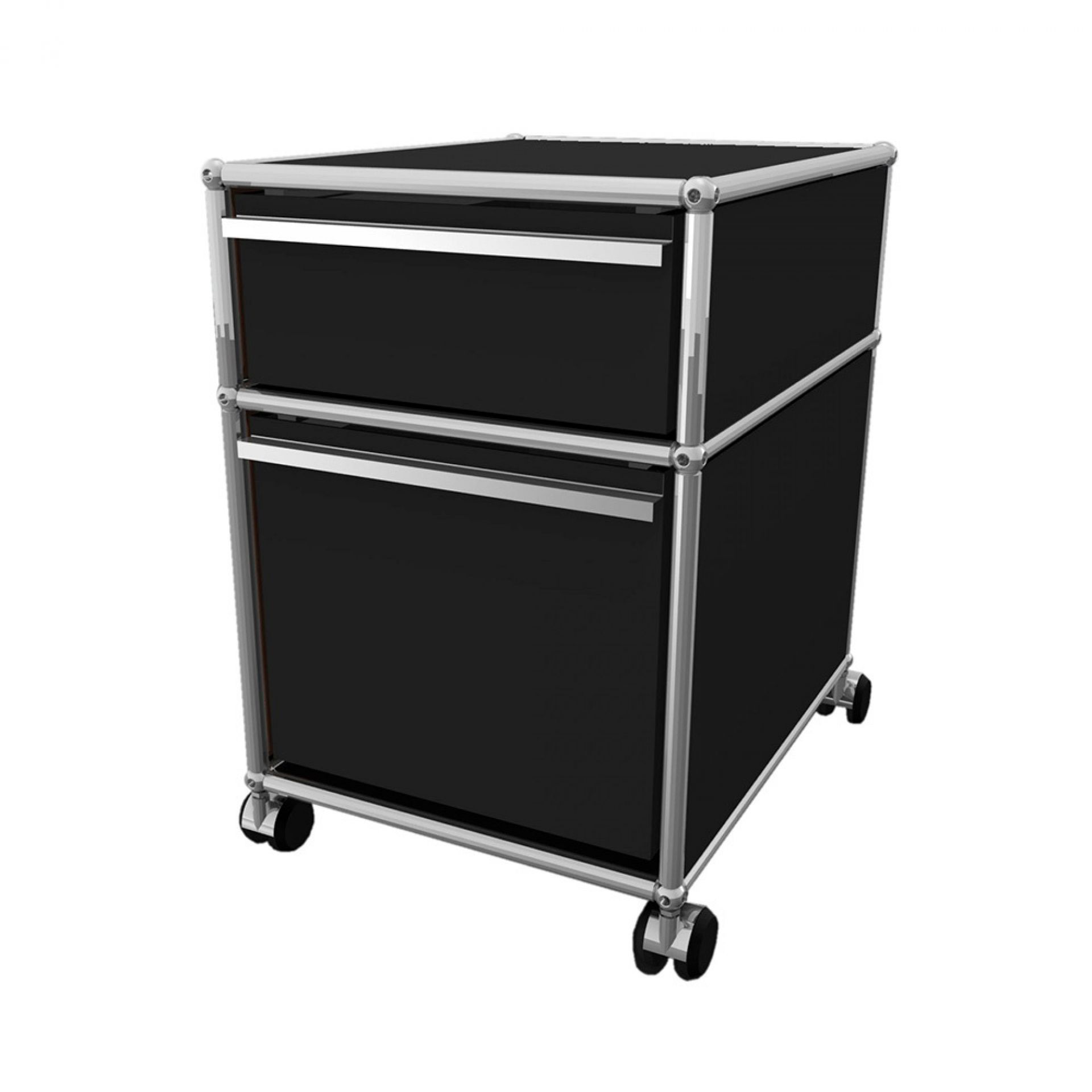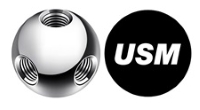 USM Haller Rollcontainer mit Hängeregistratur – graphitschwarz
Arbeitstier: der USM Haller Rollcontainer mit Hängeregistratur. Jede der zwei Schubladen wartet nur darauf von Ihnen befüllt zu werden. Und wie es sich für einen Rollcontainer gehört, ist er mit leichtgängigen Rollen ausgestattet. Das i-Tüpfelchen ist der integrierte Hängeregistratur-Einsatz.
Ganz offensichtlich hat der USM Rollcontainer etwas gegen Schreibtischtristesse, zumindest der vielen schönen Farben nach zu urteilen, in denen er daherkommt. Als Material kommt einerseits pulverbeschichtetes Stahlblech, verchromter Stahl und Kunststoff (für die Rollen) zum Einsatz. Damit Sie sofort Ihrer Arbeitswut freien Lauf lassen können, erhalten Sie den Container bereits komplett montiert. Eine Schublade ist 17,5 cm hoch und für DIN A6-Formate konzipiert, die andere ist 35 cm hoch und eignet sich für alle A4-Formate.

Grenzenlose (Farb-)vielfalt
Knalliges Orange, frisches Grün oder dezentes Reinweiß – Sie haben die Qual der Wahl. Wenn Sie sich allerdings für eine der fünf folgenden Farben entscheiden, können Sie sich über eine schnellere Zustellung freuen. Denn für diese Artikel bieten wir den sogenannten QUICK SHIP – Schnelllieferservice an:
- reinweiß
- anthrazitgrau
- goldgelb
- USM rubinrot
- graphitschwarz
LIEFERINFORMATION
Deutschland und Schweiz: Alle USM Haller Möbel liefern wir komplett montiert. Sollte eine Montage vor Ort nötig sein, bitten wir hier um vorherige Absprache. Im Preis enthalten ist das Vertragen (den Transport an den Ort der Verwendung, zum Beispiel Ihre Wohnung) und gegebenenfalls Endmontage (nur innerhalb Deutschlands) durch unser hauseigenes Montagepersonal oder durch unsere Möbelspedition. Dies erfolgt nach individueller Tourenplanung. Wir räumen uns deshalb bei Lagerware eine Lieferzeit von 2 Wochen (+/- 1 Woche) ein.
Alle anderen Länder: Je nach Länder-Versandvereinbarung erfolgt die Lieferung komplett montiert auf Palette. Ein Vertragen können wir hier leider nicht anbieten.
USM Haller
Hinter dem weltweiten Erfolg der in der Schweiz ansässigen Firma USM Haller steht ein sogenannter Knotenpunkt. Dadurch war es möglich, Möbel im Baukastensystem herzustellen. Der große Vorteil: Viele Module lassen sich beliebig erweitern. Wenn Sie ein Möbelstück von USM erwerben, können Sie sich über eine erstklassige Qualität und durchdachtes Design freuen. Das sehen nicht nur wir so, sondern die vielen, vielen Kunden, welche die Möbel seit Jahren, wenn nicht sogar Jahrzehnten, nutzen.
Individuelles Angebot
Und falls Sie eine rundum andere Vorstellung davon haben, wie ein Tisch auszusehen hat, ist das auch kein Problem. Gerne erstellen wir Ihnen ein kostenloses und unverbindliches Angebot. Sprechen Sie uns einfach an!
---
Der Rollcontainer ist nicht nur schick sondern auch super praktisch und nimmt wenig Platz weg. Das schlichte Design passt perfekt in mein modernes Büro und ich habe immer alles an Ort und Stelle. Einfach klasse! Zwar nicht ganz günstig, aber dafür begleitet der Container einen für eine sehr lange Zeit.
| | |
| --- | --- |
| Product number: | USM HALLER DE_QS_M1 30 |
| Manufacturer | USM Haller |
| Designer | Fritz Haller |
| Shipping method | Forwarding agent |
| Material | Pulverbeschichtetes Metall / Chrom / Kunststoff |
| Material | Pulverbeschichtetes Metall / Chrom / Kunststoff |
| Width (cm) | option_38920 |
| Depth (cm) | option_38602 |
| Height (cm) | option_36767 |
Questions about the product? We are happy to help.
Personal contact person

trained product experts with love for designer pieces

Material advice

20 years of experience
Exactly as you imagined it.
Our special service for you: Take our range of diverse material samples home with you in comfort.
View material samples
Related products of USM Haller Rollcontainer mit Hängeregistratur – graphitschwarz